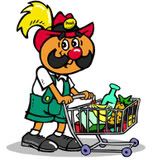 As I walked closer to the deli counter I noticed an older man scrutinizing the different types of turkey.
The elderly lady behind him said, "You didn't get a ticket."
"Huh?"
She repeated loudly, "You didn't get a ticket."
"There isn't any."
"Yes there is."
"It's empty."
So she walked over and told the employee, "He says you don't have any tickets."
"We have tickets. They're just stuck."
She expertly fiddled with the bright red dispenser until she got a ticket then turned to hand it to the older man she was with.
"I'm already waited on."
That's how I became ticket number 59 at the deli counter.