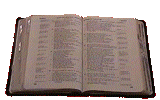 As I mentioned earlier we are having revival meetings at our church this week. There have been so many things that challenged me and encouraged me. I will just share a couple things that I wrote down last night.
The evangelist's message was, "If your sins are hidden, your life becomes slidden, and from God's helping hand you will be forbidden."
Why then is this people of Jerusalem slidden back by a perpetual backsliding? they hold fast deceit, they refuse to return. Jeremiah 8:5
Following are some of the things he said that I want to remember:
There are 2 reasons to go to the altar. 1. If God is speaking to you, and 2. If God is not speaking to you. In fact, if God is not speaking to you, you need to run to the altar.
The thing that keeps you from going to the altar is p-r-i-d-e.
It is impossible to get too close to God.
By refusing to listen to the words of God, as told by the man of God, you are mocking God.
One other thing that I learned a while ago, but I want to make sure my children learn-
You have to make God your own. You can't rely on your spouse's relationship with God, your parents' relationship with God, your church's God, some famous person's relationship with God. When trouble and heartache comes you will be looking for God. Make Him your personal God before that time comes.