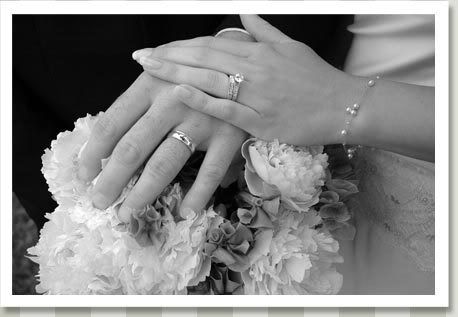 At the altar of marriage together they stand,
Hearts in unison, hand-in-hand,
Thinking the thoughts too deep to say,
Dreaming the dreams of their wedding day.
Oh, pilgrims, new to this way of life,
Starting your journey as husband and wife,
Lost in the bliss of the golden now,
Will you always remember your wedding vow?
The future before you, you cannot see;
But 'tis yours to make it what it will be.
Will you keep your promise your whole life through?
Had you thought of that when you said, "I do"?
Are you dreaming of pleasure unmixed with pain,
Or of loss and sorrow, as well as gain?
Remember your promise "for better or worse,"
For the fruit of this day may be blessing or curse.
For marriage means body, and heart, and soul;
'Tis the song of a lifetime, perfect and whole;
A life of devotion, tender and true,
Was that what you meant when you said "I do"?
~ Winn E. McGowan