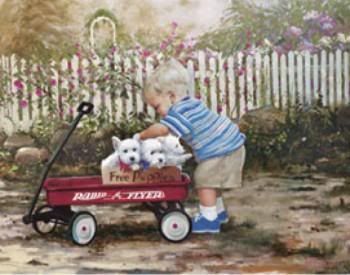 At 8 AM I just wanted to pull the covers over my head and go back to 12 AM for a restart. Unfortunately, it didn't work. Fortunately, I'm doing much better now.
Here are my complaints:
The kids -I'm calling them baby goats on purpose – were butting heads the minute they got up.
The weather is dreary and cool. Cold by southern standards.
I was up a couple times over night.
It's a Monday. 'Nough said.
Praise the Lord we had donut holes for breakfast! A great way to start the week. "Here's the box kids. Here's your drink. I'll see you after my shower."
My husband came home for lunch and said that I could go to the grocery store without the kids. I guess he wanted some food for lunch. Go figure.
I took my prepared list and walked the two blocks to the grocery store. As I was checking out I thought, "It's going to be tricky to carry these bags home. Oh well, it's not far."
As I parked the cart and loaded my arms with plastic bags I heard, "Hi Mommy, Hello Mommy, Hi Momma!" The calvary had arrived!
There stood my Mr. Wonderful with the kids; two on bikes and one in a wagon. Did ya catch that? A wagon! Hallelujah! I didn't have to carry the bags home.
Just to say how special this was…When I left the house the kids were dressed, but barefoot.  He had to put tights on the girls, locate and put on 3 pairs of shoes, and get the bikes out of the shed.
As an added bonus I got to run over to the dollar store and pick up an item I'd been wanting to get for the past week. I actually walked there and kind of jogged home – it was fun.
It's amazing how much better a quiet grocery trip, a wagon, and a good lunch made my day.