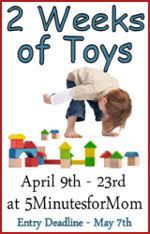 The following was written by Janice at 5 Minutes for Mom:
Life is short. Every day our kids grow a little bigger. So let's seize the moment and celebrate the early years. Yes – it is time to PLAY!

For the next two weeks, we will be going toy crazy here at 5 Minutes for Mom. We will be featuring an assortment of toys for a variety of ages. We will have toys for babies, preschoolers and grade school kids. For the next fourteen days, the rule is FUN!

You don't have to be a blogger to enter.  Go ahead – check it out!